Name : Sierra
Age : 15
Sign : :Leo
Movies : Ghost World, A Clockwork Orange, Girl Interrupted, Requiem for a Dream, Buffalo 66.
Favourite Colour : Electric blue, Violet, Pink, Green.
Favourite Word : Fuck.
What do you like most about you?My hair, I always get compliments on my hair, I like the length of it.
What do you like least? Um, my face. It's not that great.
If you could meet a rockstar, who would it be? Ian Curtis! He was so hot. I love him & I love Joy Division.
Why am I a sexy? Because I am all in all, a decent person.
Where did you hear about us? I don't remember. I saw it a long time ago, then I decided to join.
Who is your role model? Jessicka Fodera, she's so beautiful, and she has such a lovely voice.
Who do you wish you looked like?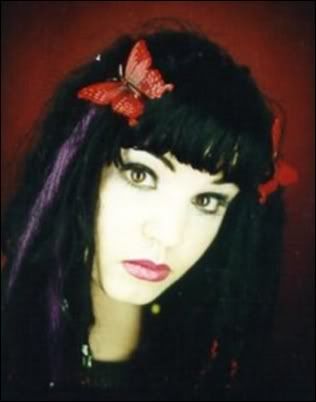 I guess I'm supposed to post pictures?